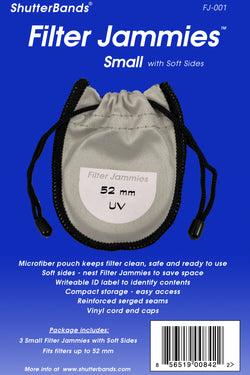 ShutterBands
Filter Jammies - Small with Soft Sides
Microfiber pouch keeps filters clean, safe and ready to use.

Soft sides allows you to "nest" Filter Jammies to save space. 

Writeable ID label to identify contents.

Package includes 3 Small Filter Jammies with Soft Sides.

Fits filters up to 52mm.
Filter Jammies come in two styles - "Soft Sides" and "Armored". The "Armored" version includes two high-density plastic discs to protect the filters from contact with other gear.
If you store your filters in an area where they might come in contact with other gear, choose the "Armored" version. If your filters are stored in a protected pocket, you can use the "Soft Sides" version which allows the filters to be nested to save space.